Our Staff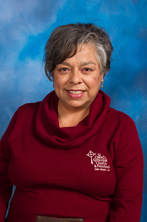 Karen Garcia, Director
-Karen has her BA and MA Degrees in psychology, as well as many courses in Child Development. Additionally she also has her Site Supervisor Permit from the State of California, Commission on Teacher Credentialing.

-She has 5 years experience working with young children and was the Director of Programs for a local non-profit group overseeing 7 after-school programs for children 5-18 years of age for nearly 8 years.

-Prior to her role in youth development and education Karen worked in a variety of mental health and social services settings working with children, teens and families in crisis.

-Her favorite groups to work with are teens, twos & teachers!

---
---
Our Teachers
Our staff consists of dedicated early childhood professionals. Each teacher exceeds the minimum requirements set forth by the State of California Title 22.Our staff participates in continuing education in order to keep abreast of the latest ideas and strategies of the field. All of our staff members are trained in Pediatric CPR and First Aid. They also have additional training in related Health and Safety Practices.

---
Zyntia Acosta-Assistant Director
​
-Zyntia has her AA Degree in Child Development.
- Zyntia has been with St. David's preschool for 11 years and is our resident Artillerista (Art Teacher)
- Zyntia also heads up our new Spanish Language program.
- Zyntia- is mom to two teens one of them is a St. David's Preschool graduate!


---

---

​Norma Bahena
- Norma loves working with 2 year olds and young 3 year olds.
- Norma has many units in Child Development and is always eager to take an additional course or workshop to sharpen her skills.
- Norma loves arts and crafts and shares her energy with the children.
- Norma is a long term committed teacher of our youngest children for the last 13 years.


---

---

Lauralee Boushay (Substitute)
​
- Lauralee has lived all over the country as the spouse of a former military man and has decades of experience working with children of all ages in groups and individually.
- Most of her Early Childhood and Psychology courses were completed at Maui Community College, part of the University of Hawaii!
- We love having Lauralee on campus as a substitute and support teacher as she is calm, patient and fun.




---

---

Yvanna Bresciani
-Yvanna has her AA degree in Child Development and completed a year-long internship at a local well known Reggio Emilia inspired school here in San Diego.
-Yvanna is mom to a preschooler who attends St. David's preschool.
-Yvanna is creative in her selection of materials for use in the classroom.
- Yvanna is a nature lover who likes to expose the children to Nature's wonders.



---

Nikki Kemp
- Nikki is a graduate of ROP & Job Corps programs in Child Development.
- Nikki is currently working on finishing her A. A. Degree in Child Development & Health Information
Technology.
- Nikki has worked in publicly funded and private preschools for over 20 years!



---

---

Dina Madruga

- Dina has taught with Motion & Me, a creative movement program, enhancing confidence, communication and cooperation in young children since 2007. She became the owner in September 2016!
- Dina holds her BA degree in English, has a book and dozens of articles published, all focusing on children and families.
- A certified yoga instructor through Rainbow Kids International, Dina continually increases her knowledge of early childhood education and will complete here Master Teacher Certification in 2017!
- Dina is with us for Motion & Me sessions on Monday's and several afternoons per week as a support teacher.



---

---

MaryAnn Michlanski

- Mary Ann has her Certificate in Child Development from Grossmont Community College.
- Mary Ann loves working with Pre-K children to prepare them for kindergarten.
- Mary Ann has more than 17 years teaching experience.
- Mary Ann's calm demeanor and curriculum planning keeps her classroom fun and engaging



---
---
Our teachers are intentional in everything they do: setting up their classrooms and playground area, planning the curriculum, making use of various teaching strategies, assessing the children, interacting with them, and working with their families


---
St. David's Preschool Prayer
O, Eternal God, bless St. David's Preschool that it may be a lively center for sound learning, new discovery, and the pursuit of wisdom. You have blessed us with the joy and care of children. Give us calm strength and patient wisdom as we bring them up, that we may teach them to love whatever is just and true and good. Grant that those who teach and those who learn may find you to be the source of all truth. Direct us in all our doings with your most gracious favor, and further us with your continual help, through Jesus Christ our Lord. Amen.

Adapted from the Book of Common Prayer, USA, 1979.