Welcome to St. David's preschoolAll are welcome to our community!
Phone: 619-276-7048 Email:
preschool@saintdavidschurch.com
5050 Milton Street San Diego, CA 92110
---
---
Karen D. Garcia, Preschool Director

California Dept. of Social Services
License No. 370806232

Drop-In Tours: Thursdays at 9:30 a.m.
or email/call to schedule a tour time outside of these hours


---

​Celtic Celebration at St. David's Preschool 10:00 am - 2:00 pm A Family Centered "Carnival Fundraiser" Benefiting St. David's Preschool Highland Games Inspired Carnival Games, Bounce Houses, Brave Heart Face Painting, Silent Auction, Food, Artisan & Craft Vendors, Music & Fun for All!! Participation Bracelets $10 each or Family Pack $25!!

The Preschool is conveniently
open from 7:00 am to 6:00 pm, Monday through Friday.

The Preschool is open year round and has limited holiday closings.

We serve children 2-5 years of age.



---

---

​Our Mission Statement
​
​
​With the teachings of Christ as our foundation, we provide excellence in play-based early childhood education via a nurturing and purposeful environment that supports a healthy self-image, creative expression, and critical thinking.

---
---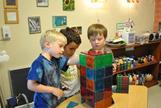 St. David's Preschool is a nonprofit 501 (c)
3 organization and ministry of St. David's Episcopal Church.
​
The Preschool was founded in 1990 and is licensed by the State of California, Community Care Licensing Division. The goal of the founders of the Preschool was to create a nurturing learning environment for young children within a framework of Christian values, to foster growth in all areas of a child's development.
---
---
Our Philosophy
We are a Reggio Emilia-Inspired school that is child-centered and teaches to the whole child. We recognize play as essential to a young child's learning experience and our program addresses cognitive, social, emotional, physical, and spiritual development. Through exploration, experimentation and play in a carefully planned environment, we enhance the child's unique potential, creativity and critical thinking skills. We express our Christion values by teaching empathy, tolerance, appreciation for diversity and respect for others.

School Motto: Love God, Love Our Neighbors, Love Ourselves


---