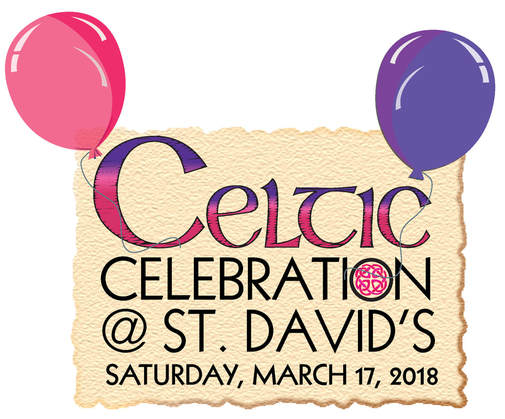 The Celtic Celebration at St. David's is almost here!Saturday, March 17, 2018 10 am - 2 pm.
As in past years we will have carnival type games, bounce, vendors, silent auction and food/bake sale...an enjoyable time for all!
-We need your help for it to be a successful fundraiser for our preschool and a fun event for the community.
-We need Volunteers. Of course, any event such as this requires worker bees! Sign-Up sheets will be available at the Sunday Coffee Hour the next several weeks.
-We need fiscal
Sponsors
.
If you know of a business that will help underwrite the cost of our event, please let us know.
- We need
Donations
for Silent Auction & Opportunity Drawings. Attached is a letter you can give to local businesses you frequent to ask for donations. The goal is to get the businesses and groups to donate items or complete packages.
Each business will get recognition at various levels of giving!
Link for Donation letter below
- We need
Vendors
. Attached is information on having a booth/table at our Celebration. It is only $30 for an outdoor booth or $40 for an indoor table. If you know of any artisans or local businesses, please approach them and offer them this opportunity!
Link for Vendor letter below
- We need
a Kitchen Coordinator!
(Or Two) We will have a bake sale along with food at the festival & need people to make goodies & be the Coordinator(s) in the Kitchen. We also need
Bakers
!
We need a BIG ATTENDANCE
at the Festival! Plan to attend and invite your friends and neighbors. Help promote our event on your Facebook Pages or anywhere else you might reach the community. Consider purchasing event bracelets to give to a family you know!
For additional information contact Karen Garcia at 619 276-7048 or preschool@saintdavidschurch.com
The Celtic Celebration at St. David's is almost here!
---